Prometric Test Center at UNG's Dahlonega Campus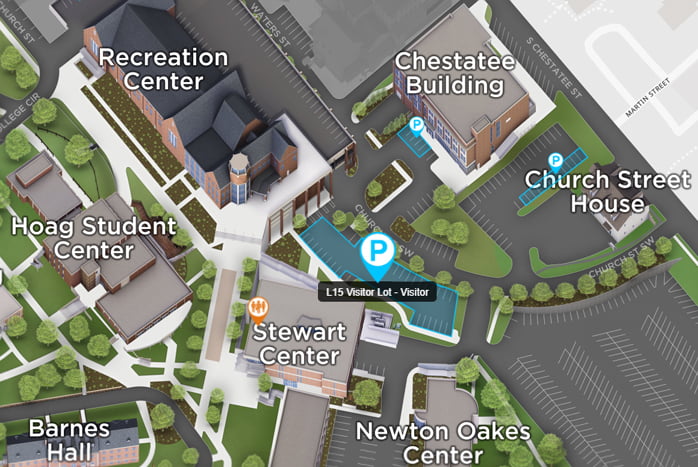 Location
The GPS address: 156 South Chestatee Street, Dahlonega, GA 30533 will bring you to the campus entrance closest to visitor parking lot L15. This parking lot is located behind the Stewart Center.
Do not use the 82 College Circle address. You will not arrive at the Stewart Center!
We are located in the Stewart Center (Stewart Student Success Center) Room 203B, next to the University of North Georgia Testing Center.
Parking
All examinees testing in the Prometric Test Center are required to register their vehicles. It is recommended that you register for visitor parking before you arrive on campus. Visitors must provide vehicle information including make, model, license plate number and state in order to receive a parking permit. Please arrive in enough time to locate available visitor parkingon campus. You will be ticketed if you are parked anywhere other than visitor parking. The Prometric Test Center is not responsible for parking citations received by Prometric examinees.
Where to Register
Parking Services Office: Visitors can register their vehicle at the Parking Service Office during regular business hours on any campus: Monday through Thursday 8:00 a.m. - 5:30 p.m. and Friday 8:00 a.m. - 3:00 p.m. License plate and vehicle information will be required to register.
Online: Visitors may go to the Parking Services Web Portal to register their vehicle for a temporary, one-day parking permit. The vehicle's information including make, model, plate number and state will be required in order to register online.
Visitor Parking
Visitors are allowed to park in any space designated as Visitor Parking.
Visitors are NOT allowed to park in any area that is designated as no parking, reserved, restricted, red-lined spaces, fire lanes, or bus parking only, or in any other areas not designated for visitors.
Visitors with ADA needs should have a state-issued Disability Parking permit in order to park in an ADA designated parking space.
These spaces are enforced during business hours. The days and times are Monday through Thursday from 7:00 a.m. to 5:30 p.m. and Friday from 7:00 a.m. to 3:00 p.m.
If you have any questions and/or you cannot find available parking, please contact
Parking Services
 at 706-864-1697.
Arriving for Your Test
Arrive Early
Please arrive 30 minutes prior to your test time for check-in.
Late Arrivals
If you are over 30 minutes late for your scheduled exam time, your admission will be determined by the day's testing schedule and hours of business.
Identification & Test Security
Proper identification must be presented in order to test.
If you have questions about up-to-date test center security, or want to know what proper identification is required for your exam, check with your testing sponsor or visit the Prometric website. 
Additional Information
Lockers will be provided for all personal belongings in our Prometric Center.
Light sweatshirt/hoodie/sweater may be worn in the testing lab.
No heavy outerwear or heavy jackets are allowed in the testing lab.
No microwave or refrigerator available.
Inclement Weather Information
From time to time, some test centers will close due to inclement weather or other unforeseeable circumstances. When a test taker or employee safety is at risk, we will proactively close test centers and contact the affected candidates to help them reschedule their exams.
If there is a question as to whether your test center is/will be open, please contact Prometric and note the severe weather alert notice and the list of closed test centers. Prometric will contact examinees regarding rescheduling.  You will be contacted via email within 24 hours of the test center closure. If you have not been contacted within 24 hours, please email Prometric directly at globalcandidateservices@prometric.com. 
Still Have Questions?
Please contact UNG's Prometric Test Center directly at 706-867-2682 or 706-867-2325.